We Get You Back In Business In Brandon After A Water Loss
2/20/2020 (Permalink)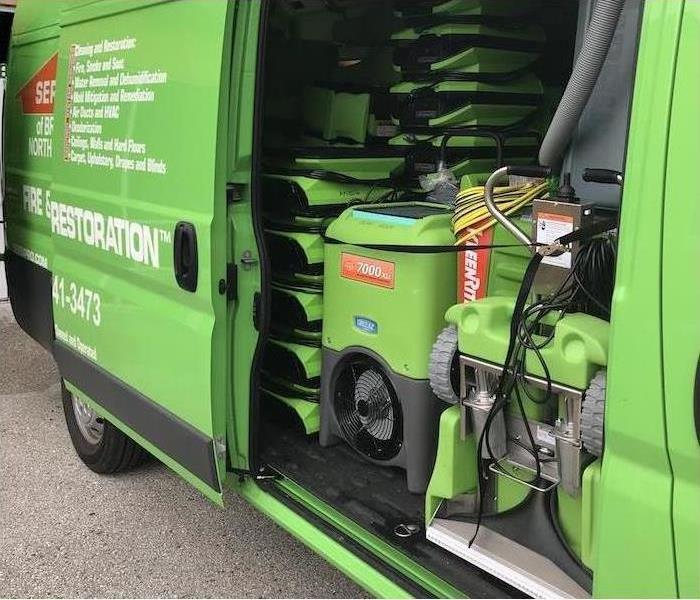 We can stack a lot of our equipment, including low-profile air movers, large LGR dehumidifiers, and even a riding Rover to restore your property.
Emergency Repair and Later Restoration of a Brandon Office
The restoration and recovery of a water loss in your Brandon office happen in phases. Should disasters strike during working hours, you need to find a suitable solution that can keep your facility open to your customers until restoration work can safely begin. A prompt response with our emergency services, including extraction and controlled demolition, can allow the business to remain open until the workday ends, and our SERVPRO technicians can get to work on restoration.
Emergency repairs do not fully resolve the water damage to Brandon offices, and often the full recovery of your property involves the use of many restoration tools, machines, products, and techniques. A priority of our rapid response team arriving at your office building is determining the source of the water damage and addressing it whenever possible. Ruptures to the plumbing after pipes freezing or a broken faucet might allow for substantial water depositing on the floors, and require repair before extraction and drying efforts can be practical.
At first, repairs to the plumbing can begin when our in-house contractors arrive at the office building. Because there are so many desks and other furniture that can get saturated by standing water concerns, extraction is also a vital element to the pre-restoration process. With the appropriate containment strategies in place to encase the drying zones like the damaged bathrooms, we can work to keep your office open until closing time.
While the full measure of restoration work does not begin when our rapid response team first arrives, preliminary actions can reduce total property loss. With efficient drying tools like our air movers and dehumidifiers, we can make short work of compromising water loss effects.
The recovery of your office building, including the containment of the source of the water loss, involves a combination of our experienced SERVPRO of Brandon / North Riverview technicians and in-house commercial contractors. From our emergency response to our tireless work to get your doors back open, it is our business to get you back in business. Give us a call at (813) 741-3473.
See more about Brandon.